Our brand new competition 'Ride to Win' started in November 2021, and it's all about rewarding you, our loyal customers. Each month until the end of summer, we will draw a winner from each bus and ferry route. The winner will receive 1 month's free travel. There are 29 different routes, so that's 29 chances to win!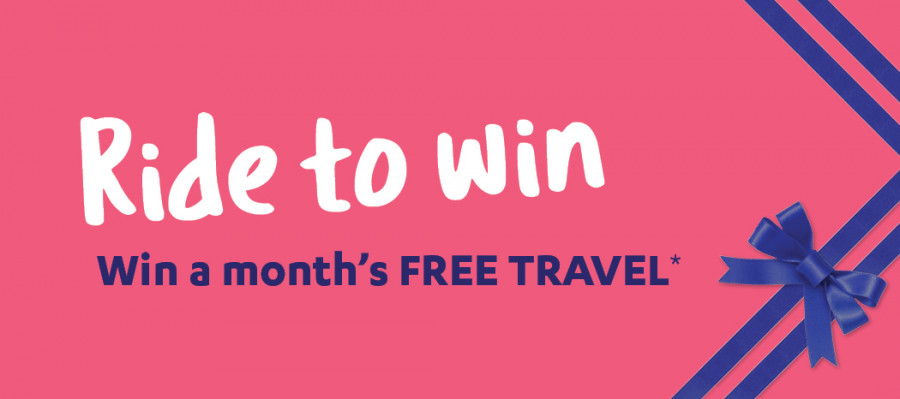 It's our way of saying 'thank you'.
Driving is the single largest contributor to Christchurch's carbon emissions, so every bus trip you take directly helps our environment. Not only this, but your efforts help to reduce congestion on our roads and creates cleaner air, benefiting everyone in our city. Every ride you take you are making a difference.
So thank you, Christchurch, from the team at Metro.
How do I enter?
Travel on any Metro bus or ferry during the promotional period and tap on using your registered Metrocard or Cando card. Each trip you take gives you another entry into the monthly draw on that route. Check your Metrocard details are up to date using the details below. Good luck!
Check your Metrocard or Cando contact details are correct, so we can contact you if you win
With an online account, you can easily top up your Metrocard or Cando card, check your balance, and update your details.
Do you already have an online account?
Simply log on and check your details. Forgotten your log on? No problem – email us or call us on 03 366 8855 and we can help you out.
No online account?
Give us a call on 03 366 8855 and we can check your details are up to date. Make sure you've got your Metrocard or Cando card handy.
At the same time, we can provide you with a registration code if you would like to set up your online account.
You can also email us, or come and see us at the Metroinfo counter at the bus interchange, with your Metrocard or Cando card number and contact details and we'll take care of it for you.
Is there one prize per route?
The Metro network has 29 routes, spanning all over Greater Christchurch, from Darfield to Diamond Harbour, Rangiora to Rolleston. Each month we will draw a winner from every one of these 29 bus and ferry routes. 29 different routes means 29 chances to win.
How long is the competition running for?
The competition begins on 1 November 2021 and ends on 28 February 2022 with winners drawn monthly.