Options for the community - Leeston/Southbridge 87 trial bus service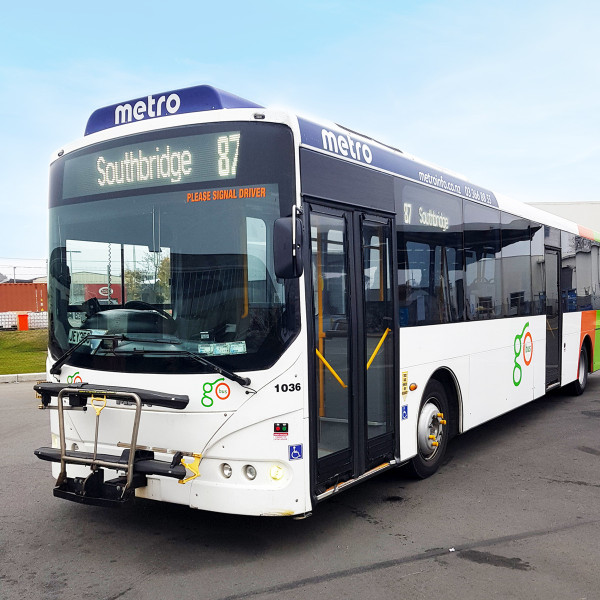 Updated 8/06/2021
Environment Canterbury is running a survey (survey now closed) with the Springston to Southbridge community to explore options to continue a bus service to connect to the city. This trial of the 87 Southbridge – City service started in 2019 and after many extensions is due to expire due to low patronage unless a solution is found.
"The survey will gather community feedback on three different options, to help us shape some potential solutions," Metro's Customer Experience Manager Thomas McNaughton said.
"It's a balancing act, providing services that fits wider community wants and what we are able to provide – it can be challenging," he said.
"So we invite everyone from Springston to Southbridge to participate in the survey. The more information we have, the better informed our balancing act will be."
Community meeting saw collaboration
On 27 April Environment Canterbury held a community meeting in Leeson to discuss the future of the trial 87 Southbridge – City bus service. This was a well-attended meeting with constructive discussions and plenty of suggestions from the floor.
With morning patronage being reasonable, but afternoon patronage being too low, it was found that many parents travel to Lincoln to pick their children up after taking a connecting bus from the City to Lincoln. Also, the current special fare does not allow transfers to other buses – something the community shared they would find beneficial.
It was strongly suggested to have trips from Lincoln to Southbridge to connect with the Lincoln buses which would then include city transfers as a preferred option. This approach would also allow for two afternoon departure options from the city.
Other points raised included lack of heating on the bus, no transfers on the present fare system, the return trip time does not suit school students and is too early for some workers and the desire for more bus runs during the day and in weekends to local towns.
Proposed options for feedback
Public transport is funded by local targeted rates, government grants to match the local rates, and fares.
Current patronage is too low to sustain the service, so as a result of the community meeting in April, Environment Canterbury is proposing some options that fit within the existing funding make-up of the service.
All options will continue the pick-up and drop-offs from Southbridge, Leeston, Doyleston, Irwell and Springston.
Option 1 – Lincoln connection
This would allow customers to catch the bus in Southbridge and travel to Lincoln in the morning, then return via a connecting service in the afternoon. It includes one morning and two afternoon trips Monday to Friday. There is a slightly different route with the connecting Lincoln 80 and express 81 not traveling through Hornby or Church Corner (see map).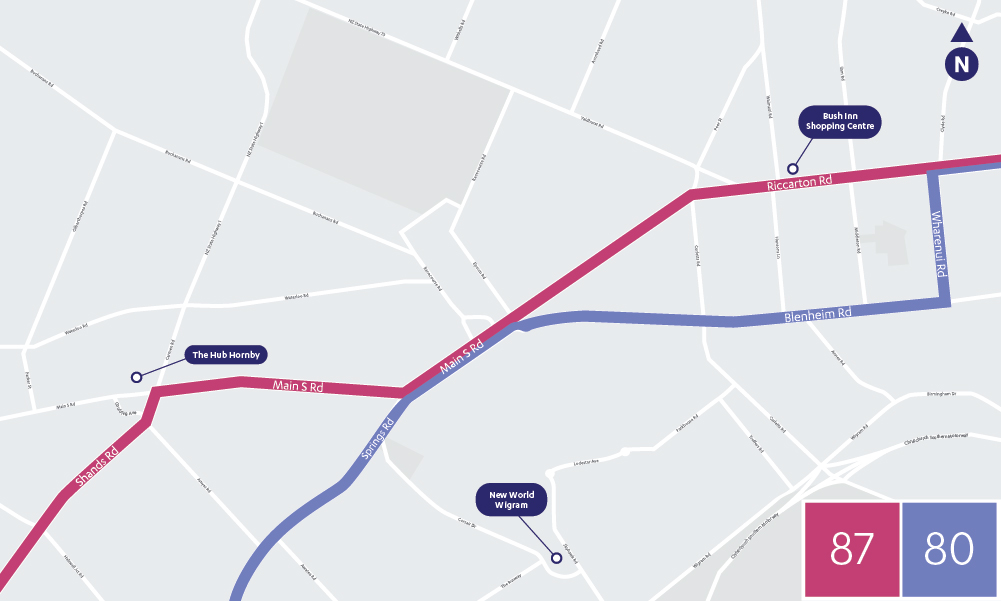 Schedule Monday – Friday:
Depart Southbridge 6.55am arrive Bus Interchange 8.25 – 8.29am
First afternoon bus 80 depart Bus Interchange 3.09pm, arrive Southbridge 4.44pm
Second buses 80 and 81 depart Bus Interchange 5.09pm and 5.18pm, arrive Southbridge 6.43pm
Cost:
Zone three fares, $4.70 adult, and $2.60 child with Metrocard.
Includes transfers.
Option 2 – Rolleston connection
This would allow customers to catch the bus from Southbridge and travel to Rolleston in the morning, then return via a connection service in the evening Monday to Friday. Timetables would be aligned so customers can catch the 5 Rolleston/New Brighton, which travels the same route into Christchurch as the current 87 Southbridge – City.
Schedule Monday – Friday:
Depart Southbridge 6.45am, arrive Bus Interchange 8.22am
Depart Bus Interchange 5.27pm, arrive Southbridge 7.25pm
Cost:
Zone three fares, $4.70 adult, and $2.60 child with Metrocard.
Includes transfers.
Option 3 – existing service continues with Annual Pass
A potential prepaid annual pass costing $400 for an adult and $250 for a child would require 90 passes to be purchased before the service would be continued. The timetable for the service would continue as it currently stands.
Cost:
The current special fare of $6 adult and $3.50 child does not include transfers.
How to give feedback
This survey was open Wednesday 26 May to Thursday 3 June and has now closed. Feedback will be collated and more information provided once it's available. Staff would like to thank those who took the time to provide their feedback.