Public transport during SailGP
On 18 and 19 March, Lyttelton will host the New Zealand Sail Grand Prix or "SailGP". With a large number of ticket holders expected to attend, there will be restricted access to Lyttelton during the event and public transport in the area will also be affected.
Please check the following information if you use Lyttelton bus/ferry services or plan on attending SailGP.
Access to Lyttelton
Access into Lyttelton on 18 and 19 March will be restricted from midday until around 6pm to residents with passes, taxis, event shuttles and public transport. Private cars (including Uber services) will not be able to enter the area during this time.
Find more info on the traffic management plan on the ChristchurchNZ website.
Got a SailGP ticket?
The quickest and easiest way to the event in Lyttelton is using the event shuttles provided by SailGP.
SailGP Shuttles
Free for SailGP ticketholders
Travel direct between the Live Site at Te Pae Christchurch Convention Centre and the SailGP race village in Lyttelton
Will run frequently from 11.30am until 2.15pm, with return shuttles from 4.30pm onwards
Making your way to the city via public transport? Your ticket also includes free travel on Metro bus and ferry services for the day of your ticketed event — just show your ticket to the driver.
See our walking map below for the quickest way to access the Live Site via public transport. (Click map to view enlarged image.)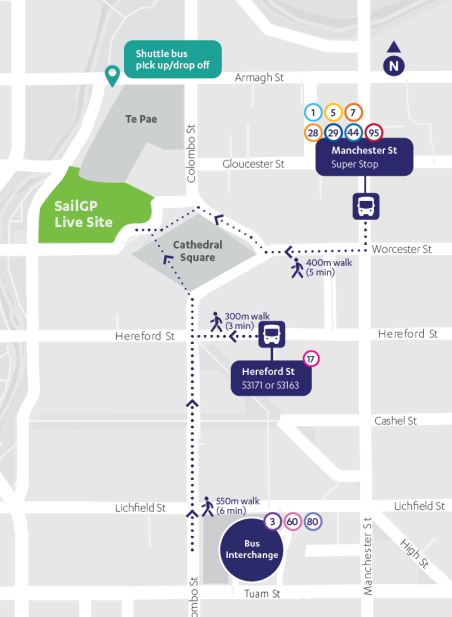 Ticketholders should note that while public transport to Lyttelton will continue to operate during the event, Metro buses do not travel to Naval Point where the SailGP race village is located. Event shuttles travel directly to the race village.
We're expecting the network to be busy, so please be patient and allow plenty of time for your travel.
Don't have a SailGP ticket?
Catch all the action live on the big screen at the SailGP CBD Live Site, located between Te Pae and Cathedral Square. Find out more about the Live Site on the ChristchurchNZ website.
Plan ahead if using public transport
Public buses to Lyttelton will continue to operate over the event weekend but are expected to be very busy on these days.
Other events taking place over the same weekend, including the Canterbury Polyfest (18 March) and City2Surf (19 March), will mean increased pressure on our network. Cruise ships are also expected to be in port at Lyttelton on 17 and 19 March.
While our bus operators continue to face a national bus driver shortage, we will be working closely with operators and event organisers to minimise disruptions to public transport services.
Ferry service disruptions
Ferry services between Diamond Harbour and Lyttelton will not run during the event. We are restricted from operating ferries in the harbour during the event and apologise for any inconvenience caused. Customers should plan ahead if they rely on this service.
17 March
The SailGP practice day scheduled for Friday 17 March has been cancelled due to forecasted high winds.
The good news for Ferry customers is that the ferry will not have a shut down period and will operate as normal on the Friday timetable. While there is some strong wind in the forecast, we do not anticipate this effecting operations.
18/19 March
Ferries will not operate following the 1:20pm departure from Lyttelton (return trip)
Services from Lyttelton are expected to resume from 5:20pm
It is important to note that these times are subject to change on the day due to event conditions, and we will aim to provide additional capacity at times when ferry services can operate. Any updates to the times above will be posted to this page.
Further information
See the following links for more information on the SailGP event including road closures and access.