Getting to the hospital

Take the hassle out of trying to find a car park and take the bus
Approximately 600 Metro buses go directly past the hospital every day, picking up and dropping off passengers at bus stops located directly outside the hospital.
Additionally, approximately 1,000 buses per day go to the central city Bus Interchange, where you can get on a bus to the hospital, only a few minutes away from the interchange.
Take a look at the map below or download the hospital bus route map to see the connecting bus routes. Another option is to leave your car near a bus stop convenient to you and take the bus to the hospital.
You can also download this useful help guide which includes all the information you need to know about getting to the hospital by bus.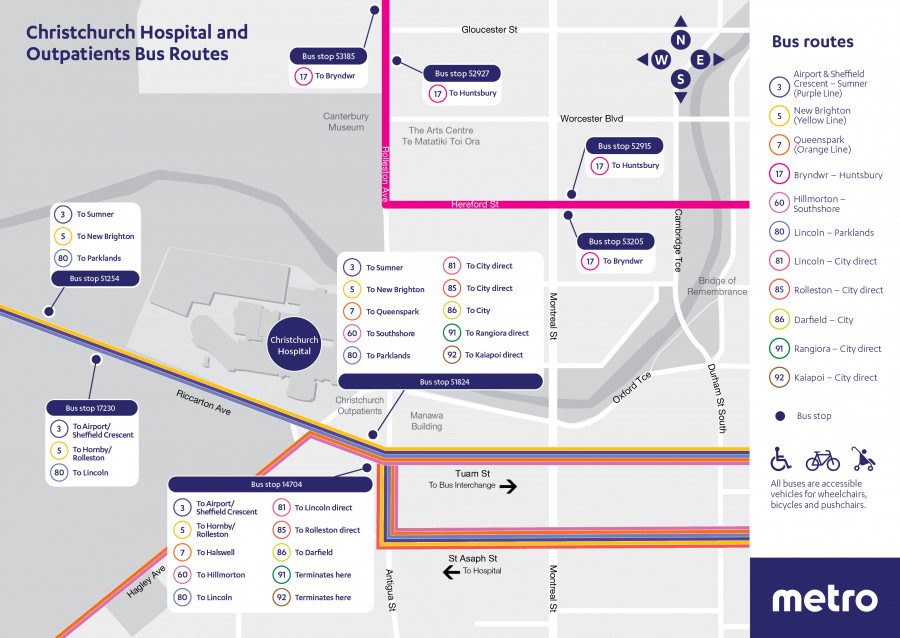 Bus routes
3 – Airport/Sheffield Crescent – Sumner
5 – Yellow Line
7 – Orange Line
17 – Bryndwr to Huntsbury
60 – Hillmorton to Southshore
80 – Lincoln to Parklands
81 - Lincoln - City direct
85 – Rolleston – City direct
86 - Darfield - City
91 - Rangiora - City direct
92 - Kaiapoi - City direct