Going to hospital?
Take the hassle out of trying to find a car park and take the bus.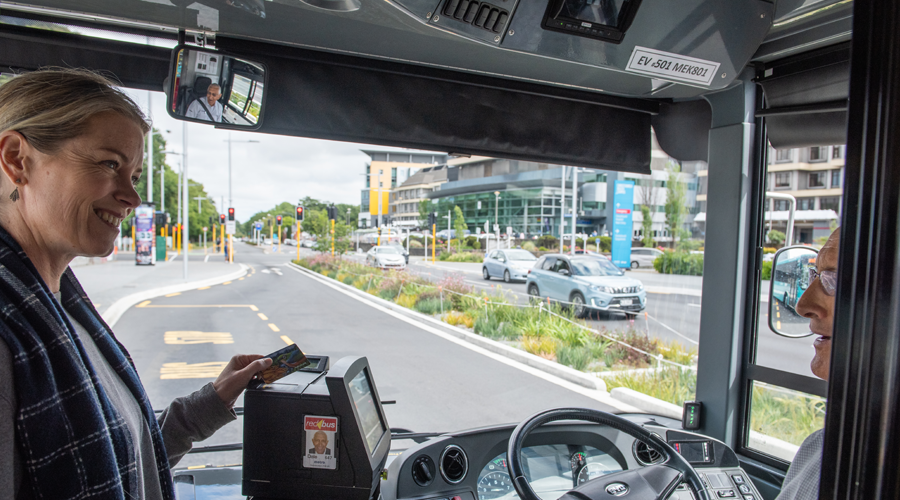 Christchurch Hospital
Approximately 600 Metro buses go directly past Christchurch Hospital every day, picking up and dropping off passengers at bus stops located directly outside the hospital.
Additionally, approximately 1,000 buses per day go to the central city Bus Interchange, where you can get on a bus to the hospital, only a few minutes away from the interchange.
Take a look at the following map (click to enlarge or download PDF file 2.2 MB) to see the connecting bus routes. Another option is to leave your car near a bus stop convenient to you and take the bus to the hospital.
(Click to enlarge)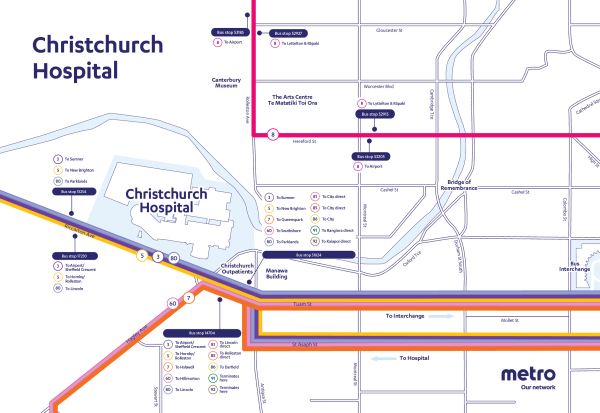 Bus routes closeby to Christchurch Hospital:
Burwood Hospital
Two Metro buses stop at the main entrance to Burwood Hospital.
7 Queenspark – Halswell: This core route runs around every 15 minutes until 7PM, and half hourly in the evenings. 
135 The Palms – New Brighton: The 135 services the local area around Burwood Hospital and connects at The Palms with onwards services towards the city centre. The service runs hourly, Monday – Saturday. 
Southern Cross Hospital
27 Northwood/Huntsbury: This service stops on Colombo Street. Southern Cross is a short walk across Caledonian Road.
Several other buses travel nearby, requiring a 10–15 minute walk. Plan your journey.
St George's Hospital
1 Cashmere – Belfast & Rangiora: This frequent, direct route reaches the northern and southern city limits and stops right outside St George's Hospital, on Papanui Road.
100 Halswell & Wigram – the Palms: Choose to either use the stop on Papanui Road, or on Heaton Street next to the St George's carpark entrance. Route 100 runs frequently throughout the day.
95 Waikuku & Pegasus - City: The 95 stops right outside St George's Hospital, on Papanui Road. It links our northern towns with Northlands Mall, the CBD and Ara Institute, and runs hourly through the day.
Forte Health Hospital
Buses heading north or west stop right outside Forte Health on Kilmore Street. If you are travelling in the other direction, your bus will stop nearby, as Kilmore Street is one way. Routes servicing Forte Health Hospital are:
Hillmorton Hospital
Two buses travel nearby, requiring a 10–15 minute walk from the bus stop to the hospital.
Princess Margaret Hospital (PMH)
A bus stop is located outside the main entrance of PMH between entrances 2 and 3.