Christchurch gains real time information for bus network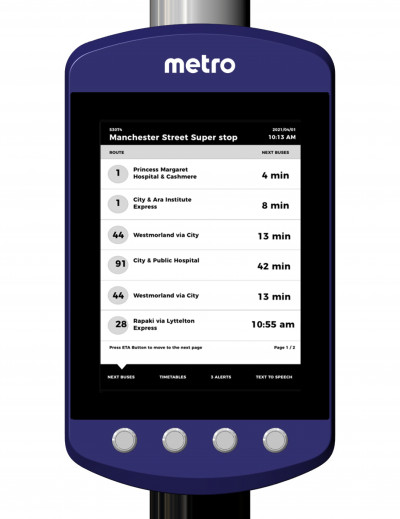 Metro customers may start noticing some changes to the on-street bus finders across Christchurch, as Christchurch City Council and Environment Canterbury begin to introduce real time information to the network.
All of Christchurch's bus finders are being removed, with around 100 being replaced with new, modern bus locators (pictured), providing a range of new and different features.
Real Time Information modernises Metro's bus arrival information
The real time information project will offer Metro customers new technology from 1 July, using cellular based satellite-fed data. This means that bus arrival times will be exact rather than estimated, and customers will enjoy accurate and advanced journey planning tools, including a new Metro mobile application.
Christchurch City Council and Environment Canterbury have collaborated to develop this solution that meets Christchurch's current public transport requirements and can evolve to meet customer needs in the future.
This includes meeting the enhanced service levels agreed in the 2018 Regional Public Transport Plan and emerging through the Future Public Transport business case.
What will be changing?
Christchurch City Council are removing and replacing some of the current bus finders, with modern, solar or powered bus locators across Christchurch.
The older first and second-generation machines will no longer be supported, so around 100 new bus locator units will be installed at high use stops across the city.
The new technology and functionality of the bus locators have been selected with accessibility as a key consideration, with clear visuals and audio announcements, being placed at an appropriate height for wheelchair users, and with soft-touch buttons that are much easier to operate.
Although installation of the new bus locators begins in late April, they will not have real time information on them until the end of June. The benefits of the new technology will be available from 1 July – including a Metro mobile app.
The bus finders are funded and maintained by Christchurch City Council, and the information and data is funded and maintained by Environment Canterbury.
Reduction in bus finders
On-street bus finders were first introduced more than 20 years ago, but many have not been well used since the increase in mobile phone, app and website use.
Christchurch City Council will be removing around 300 current bus finders, many of which are rarely used, and replacing around 100 at high use stops. To find when the next bus is due, customers can look it up online, or check the static timetable, available at all stops.
A new Metro mobile app will be available from 1 July, alongside an improvement in te reo pronunciation at the interchange.
Other changes
A range of other technology updates are occurring at the same time. Customers may not notice these, but they will contribute to the overall ease and experience for Metro users. The full functionality of the system will be available from 1 July.
Why are we upgrading?
Customers will enjoy accurate, real-time arrival information, with data and technology that can integrate with other systems and evolve over time as the Metro network grows, technology advances and customer expectations increase.
It replaces the current, radio-based system which has suffered from black spots in many areas, where the radio-frequency data could not be relied upon.
Information for Waimakariri and Selwyn public transport users
Waimakariri
Due to the increase in mobile device use and low use of the seven on-street bus finders in Waimakariri, all of them are being removed and not replaced (date TBC).
All Waimakariri bus routes will be available through the new online real time information tools, including the mobile app.
Information about public transport in Waimakariri District can be found here.
Selwyn
Selwyn has one bus finder that will be replaced by the new technology. All Selwyn bus routes will be available through the new online real time information tools, including the mobile app.
Information about public transport in Selwyn District can be found here.
Information for API developers