Christchurch gains real time information for bus network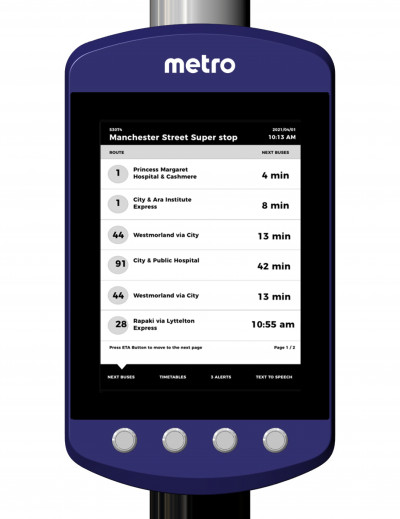 1, 2, 3…bus stop signs are now live.
Our testing has shown that the new signs are working as they should and we will continue to make adjustments based on customer feedback. These clever machines are now in learning mode and the system will become more accurate over coming months. See the latest update on bus locators.
The introduction of real time information will provide Metro customers new technology using cellular based satellite-fed data. This means that bus arrival times will be exact rather than estimated, and customers will enjoy accurate and advanced journey planning tools, including a new Metro mobile application.
Customers will enjoy accurate, real-time arrival information, with data and technology that can integrate with other systems and evolve over time as the Metro network grows, and technology advances.
It replaces the current, radio-based system which has suffered from black spots in many areas, where the radio-frequency data could not be relied upon.
Christchurch City Council and Environment Canterbury have collaborated to develop this solution that meets Christchurch's current public transport requirements and can evolve to meet customer needs in the future.
What and when?
The current system and infrastructure are unable to support the new technology, so significant upgrades are required at the bus interchange, on buses and at bus stops around the city.
Cellular based satellite-fed data now onstream
Update 9 July: Behind the scenes, the new cellular based satellite-fed data has started flowing. The new system is tracking our vehicles with a high level of accuracy via the cellular network. In simple terms, this means buses are 'pinging' cell towers much like mobile phones do, allowing us to see their location. The next steps are to connect the data stream to bus locators, online tools and the interchange – these are a work in progress.
Bus locators: 1, 2, 3…now live
Update 29 July:
The new electronic signs and bus locators are in testing mode. They are connected to the new system and receiving the 'pings' that buses are sending to cell towers so they can tell customers how far away the bus is from that particular stop.
Update 13 August: The new bus locators and electronic signs are now live. Testing has shown that they are working as they should. We will continue to monitor the system's performance and make adjustments. Thank you to customers who provided feedback during the testing phase, we have been working to resolve the issues raised.
Update 2 September: A software release overnight means some bus locators have gone offline, and they are displaying scheduled ETAs only rather than real time information. Our team will have them back up and running as soon as possible, we don't expect this to take long. Thank you to our essential workers who are providing feedback – you are next-level wonderful!
Bus Locators are now back to normal and displaying correct realtime bus ETA's.
The new signs display the ETA of the next bus in minutes. On the bus locators at bus shelters, customers need to push the "next bus" button to see this information.
The signs are now in learning mode, and ETAs will become more accurate. The system uses a combination of accurate data and machine learning – it tracks the location of a bus and estimates how long it will take to get to a particular stop. It bases those estimates on distance, speed and traffic patterns (which change, depending on what day and time it is). It sharpens these estimates over time, based on what it has seen before. We expect it take about three months for the system to reach its best.
There are handful of bus locators requiring time to be fully functional:
A bus might move slower or faster than the displayed ETA at bus stops that are very close to busy intersections or near a route terminus when, for example, a bus hits a red light which skews the ETA in the final countdown. Over time the machine learning will resolve this but it needs a few months of experience to account for it. In these instances people can usually already see the bus.
Over the next month, occasionally Orbiter route buses yet to be fitted with a on bus device will not trigger a countdown; signs will display the scheduled arrival time from the timetable instead. This is because we are trialling the first of our new electric buses on the Orbiter.
Things to note -
The overhead signs at busy bus stops show three routes at a time, see image below. The screen will refresh every 10-15 seconds, and roll to the next page showing another three bus routes.
The screens on the bus locators installed on bus shelters may take a few seconds to respond after a button is pushed; it is coming out of 'sleep mode'. Under "next bus" and "timetables" buttons, there may be a several pages of information, and this is shown as a count at the bottom of the screen. Push the button again to see the next page. The third button shows any active alerts for the bus system. The fourth button, text to talk, will read out the arrival times from the next bus screen.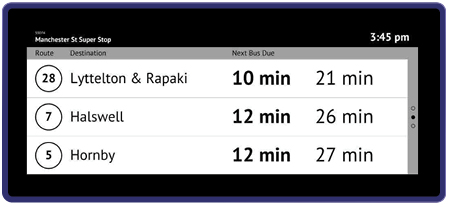 Send us your feedback. We are interested to know that the system is working or if there are any issues. You are our eyes and ears on the ground. Contact us by email metro@ecan.govt.nz or call 03 366 88 55.
Thank you everyone for your patience while we get the new system up and running; the team appreciates the feedback people are sending in.
Background information
In April, Christchurch City Council began the removal of end-of-life bus finders at bus stops around the city. These are being replaced with 100 new bus locators (pictured), with improved features that integrate with the new technology, increasing the accuracy of bus arrival times at each stop.
The new technology and functionality of the bus locators have been selected with accessibility as a key consideration, with clear visuals and audio announcements, being placed at an appropriate height for wheelchair users, and with soft-touch buttons that are much easier to operate.
Journey planner and next bus
The Metro Journey Planner and Next Bus online tools are undergoing an upgrade, incorporating the new data. Customers will notice a visual change to the way these features are displayed online, but the current functionality of the tools will be maintained, while allowing for future upgrades. These upgrades should be completed before the end of the year.
Metro mobile application
A new, free Metro mobile app will enable customers to access the Journey Planner and Next Bus tools direct from their phone. The application should be available before the end of the year.
Bus interchange
The bus interchange will be undergoing upgrades to allow the new system to automate door openings and bus bay allocation when buses stop at the interchange; we will let customers know when dates have been confirmed.
Staged approach
We are taking a staged approach to delivering the project, starting with installation of new devices on our bus fleet, on-street, online tools and finally the interchange. This allows progressive testing of the components of the solution and minimises disruption to the public.
What are your thoughts?
As customers notice changes occurring, we value your feedback. Feel free to email metro@ecan.govt.nz or call 03 366 88 55 with feedback, suggestions or questions.
Information for Waimakariri and Selwyn
Waimakariri
Due to the increase in mobile device use and low use of the seven on-street bus finders in Waimakariri, all of them are being removed (date TBC).
All Waimakariri bus routes will be available through the new online real time information tools, including the mobile app, and journey planning information and timetables are available by calling MetroInfo on 366 8855.
Information about public transport in Waimakariri District can be found here.
Selwyn
Selwyn's one bus finder will be replaced by the new technology. All Selwyn bus routes will be available through the new online real time information tools, including the mobile app.
Information about public transport in Selwyn District can be found here.
Timaru
Timaru has seven bus finders that are not being replaced. Due to the growing use of MyWay by Metro, the bus finders were registering extremely low use.
Information about MyWay by Metro public transport in Timaru District can be found here.
Information for API developers
Developer resources and information available here.
Page first published 16 April 2021