Waimakariri bus services recently celebrate six months of operation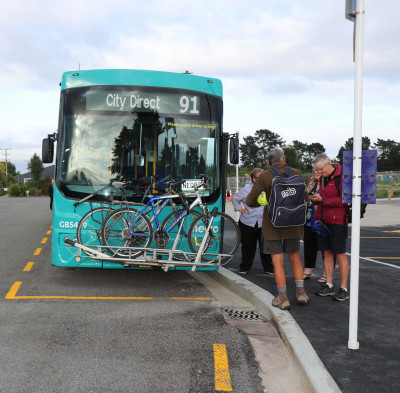 Carrying more than 30,000 passenger trips, the 91 and 92 Waimakariri direct bus services from Kaiapoi and Rangiora to central Christchurch recently celebrated six months of running.
Metro spokesperson Thomas McNaughton said the most popular morning trips from Rangiora and Kaiapoi are those leaving between 7am and 7:30am, but customers are making use of the various options available.
"It's really encouraging to see people utilizing the services. Thanks to all that have supported these new services. We'll continue to promote them in the coming months to encourage more people giving public transport a go," McNaughton said.
Both services have four morning trips to town every weekday and five return trips in the afternoon. The direct buses make use of the new T2 lanes on the Christchurch Northern Corridor, ensuring a fast trip into town.
"By taking the bus, you are also helping reduce emissions and saving money on petrol and parking – great for those commuting," he said.
Customers pleased with direct service
Emily, who commutes regularly from Woodend to the central city, is really impressed with the new services.
"The service is much quicker than before. It takes less than half an hour to get to the city," Emily said.
"I choose the bus because it's a much easier option and is better for the environment. I find driving on motorways stressful, and the cost of petrol and parking adds to this.
"The buses are comfortable, and I find the USB chargers really handy," she said.
Emily uses the Central Kaiapoi Park and Ride, which she says, "is really good."
"There are two entrances, it's easy to find a park, and it has good lighting and CCTV. It's great to have it next to the supermarket too."
Park and ride proves its worth
The service is a partnership between Environment Canterbury, Waka Kotahi NZ Transport Agency, Christchurch City Council and Waimakariri District Council.
Between 40 and 100 car parks are available at each of the park and ride facilities in Rangiora and Kaiapoi, which are maintained by Waimakariri District Council.
Lighting, security cameras, and secure bike storage cases are in place at each facility. There's also free WiFi as part of the service.
Both Rangiora and Kaiapoi services have four morning trips to Christchurch and five return trips in the afternoon, from Monday to Friday.
The Rangiora service departs from the Northern (River Road), Central (White Street) and Southern (South Belt) facilities. Kaiapoi users can get on at the Central (Charles Street) or Southern (Wrights Road) sites.
The Southern Kaiapoi (Wrights Road) facility has recently been upgraded, with a bus turnaround and pedestrian pick up point added beside the existing car park.
Service to be reviewed
The project partners will be conducting a review into the services after a full year has passed, including timetables, to ensure they are meeting the community's needs.
More information