Taking the bus is a conscientious and cost-effective way to get around town.
Making your money go further
Check out the lists below to see what your bus ride will cost. Plus, you can save even more with a Metrocard - with discounts off the regular fares as well as special cardholder deals on unlimited daily and weekly travel. Find out more about travel savings with Metrocard.
50% discount on Metro fares until end January 2023
We are delighted to confirm that half-price fares for Metro bus and ferry services in Greater Christchurch are now in effect until 31 January 2023. The temporary fare reduction is a government initiative aimed to help ease the financial burden for Kiwis as the cost-of-living increases and is welcome news for many.
> Read more about half-price fares and view the discounted fare table
Travel is getting cheaper for EVERYONE in Feb 2023
Exciting savings coming soon! Between July 2022 and February 2023 there are a number of changes coming to reduce and simplify fares across Greater Christchurch. We'll be making Metro travel cheaper for everyone, with additional savings for people under 25, community services card holders, tertiary students and total mobility card holders. Find out what exciting fare reducations are coming soon.
Greater Christchurch Metro fare structure
Please note that the table below shows the Metro fare prices with the 50% discount (mentioned above) valid for the period 1 April - 31 January 2023.
Note: From 1 May 2022 customers boarding a Metro bus at the Christchurch International Airport pay the same cash fare as for any Metro bus trip. See our latest article for more information.
Fare type
Child
Adult
Metrocard
Cash
Metrocard
Cash
Zone 1
$0.75
$1.50
$1.20
$2.40
$1.30
$2.65
$2.10
$4.20
Zone 2
$1.05
$2.15
$1.60
$3.20
$1.90
$3.85
$2.80
$5.70
Zone 3
$1.30
$2.60
$1.80
$3.70
$2.35
$4.70
$3.30
$6.70
Ferry one way
$1.30
$2.60
$1.80
$3.70
$2.35
$4.70
$3.30
$6.70
Ferry return
trip included
NA
$3.60
$7.40
NA
$6.60
$13.40
Child Fares
Children under 5 years of age travelling with a parent or guardian travel free. Metro consider a 'child' as anyone between the ages of 5 and 18. Anyone 19 years or older is considered an adult. Any passenger who is eligible for the child fare (either paying by Metrocard or cash) may be required to provide proof of age identification to the driver. Accepted identification needs to include a photo and state the person's date of birth – for example, a Cando card, school ID card or a driver licence. Failure to provide identification to the driver when asked can result in an adult fare being charged.
Extra discounts for Metrocard holders
When travelling with a Metrocard, customers are eligible for daily and weekly maximum fare caps. For a single fare (listed above), Metrocard customers receive unlimited free transfers for two hours in the same zone. For the daily maximum (below), you receive unlimited travel for one day. And when the weekly maximum is used Monday – Friday, you receive weekend travel free within the same zone. From 1 April the following discounted daily and maximum fares will apply until 31 January 2023.
Fare zone
Daily maximum
Weekly maximum
Child
Adult
Child
Adult
Zone 1
$1.50
$3.00
$2.60
$5.30
$7.50
$15.00
$13.00
$26.50
Zone 2
$2.10
$4.30
$3.80
$7.70
$10.50
$21.50
$19.00
$38.50
Zone 3
$2.60
$5.20
$4.70
$9.40
$13.00
$26.00
$23.50
$47.00
Travelling within and between zones
What fare you pay when travelling within and between zones.

Download zone boundaries map
| Where you are travelling | What you pay |
| --- | --- |
| Within Zone 1 only | Zone 1 fare |
| Within Zone 2 only | Zone 1 fare |
| ​Within Zone 3 only | Zone 1 fare |
| Between Zones 1 & 2 | Zone 2 fare |
| ​Between Zones 2 & 3 | Zone 2 fare |
| ​Between Zones 1, 2 & 3 | Zone 3 fare |
| Between Zones 1 or 2 and the ferry | Ferry fare |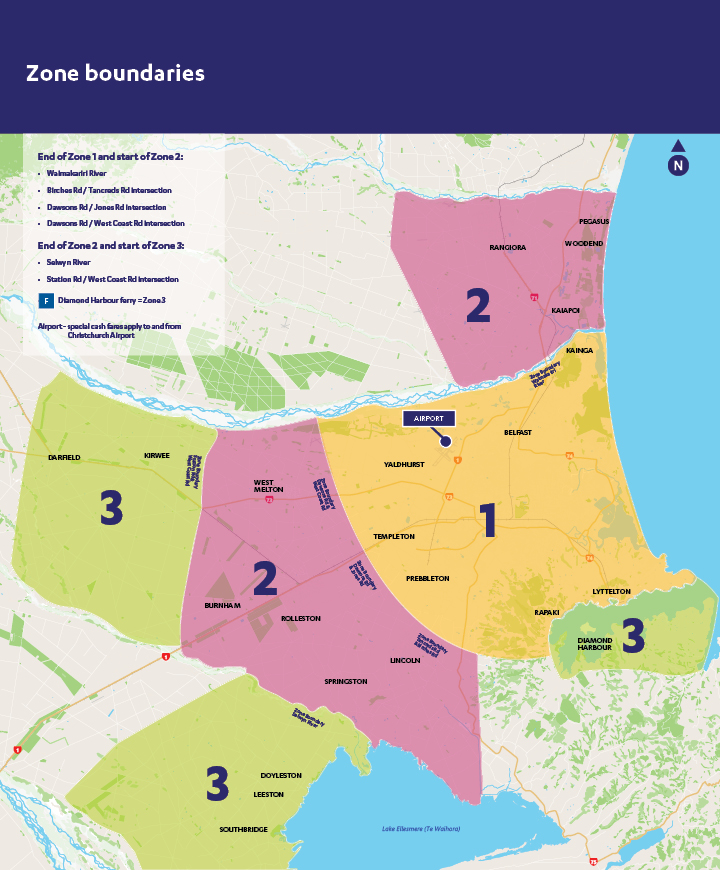 If you are travelling within zone 1 and plan to transfer on to another route to travel to areas within zone 2 or on the Diamond Harbour Ferry, ask the driver at the start of your journey on your zone 1 bus to charge you the zone 2 or the ferry fare. This is so you don't get charged for two trips (a zone 1 fare on the first bus and then, once you hop onto the other bus, – a zone 2 or the special ferry fare).
Free transfers
When you pay by cash, you are entitled to one free transfer within two hours using your ticket receipt. You can use your transfer on any Metro service within the same fare zones you paid for. The free transfer ticket does not include the Diamond Harbour Ferry.
When using a Metrocard you are entitled to unlimited transfers within two hours within the same fare zones you paid for. If you travel on the Diamond Harbour Ferry service you get unlimited transfers within 2 hours on any bus or ferry service.
Travelling on airport services
You can travel to and from Christchurch International Airport services on the 3 Airport/Sheffield Crescent - Sumner, 29 Airport - City and 125 Redwood - Westlake. From 1 May 2022 travel to and from the airport is covered under the standard zone 1 fares and standard transfer rules apply.
Travelling on the Diamond Harbour Ferry
If you are connecting to the Diamond Harbour Ferry, let your bus driver know at the beginning of your journey to ensure you are charged the correct fare. Connecting Metro bus services to the ferry are the 28 Casebrook/Lyttelton and the 155 Lyttelton - Eastgate shopper service.
If you're using a Metrocard, ask the driver at the beginning of your journey to charge the fare for the ferry. This will give you free transfers between buses and the ferry within two hours.
If you're paying cash pay the required bus fare for the zone, either zone one or two. Then when connecting with the ferry, another cash fare is required. There are no free transfers on the ferry when you are paying with cash. You can also pay a cash fare by EFTPOS card on the ferry.
Metro gift vouchers
Gift vouchers are available in multiples of $10 at the Metro Info Counter at the Bus Interchange and can be used to purchase a Metrocard, or redeemed as Metrocard credit at any Metro agent.