Travelling to and from Christchurch Airport

Take the hassle out of trying to find a car park and paying for ride shares: catch the bus
Christchurch is one of those fortunate cities with its airport located only a short distance from the city centre. Better still, it's super easy to get from the airport to the city by bus.
Taking a bus to and from the airport is one of the most cost-effective transport options. There are four options to choose from, three of which service the city centre. Both of the airport to city services are pretty direct, so you can take whichever comes along first.
Airport services
Route 8 Port to Port/Airport to Lyttelton: This high-frequency route connects Christchurch Airport with the CBD and Lyttelton. On weekdays, the service runs every 15 minutes. This service will have you arriving in the city in 30 minutes. View Route 8 timetable.
Route 29 Airport to City: You can reach the city within 30 minutes onboard this service. This route takes you all the way down Memorial Avenue and through Fendalton, skirting the beautiful North Hagley Park before reaching the city. Buses run every 30 minutes most of the day.
View Route 29 timetable.
Route 3 Airport to Sumner via City: This service will have you arriving in the city in 30 minutes. Travel past the university and Westfield Riccarton, then through iconic Hagley Park before reaching the Bus Interchange. If you are catching Route 3 to the airport, make sure your bus has "Airport" on its destination board. Only every third Route 3 bus enters the airport. The Airport Route 3 buses go every 30 minutes most of the day.
View Route 3 timetable.
Route 125 Redwood to Westlake: This suburban route connects the airport with Christchurch's northern and western suburbs and does not go to the city. Enjoy easy access to the retail hubs in Halswell, Hornby, Avonhead, Bishopdale and Northlands.
View Route 125 timetable.
Fares
Customers can pay for a trip on the bus using cash or Metrocard (our local transit card). Free transfers apply within two hours making it easier to connect multiple bus trips to wherever you need to go.
A trip on a Metro bus costs only $2 when you pay with a Metrocard, no matter how far you're travelling. Or a trip can cost just $1 if you're eligible for one of the Metrocard concessions.
Cash fares cost more no matter where you're travelling within Great Christchurch, so paying using a Metrocard saves you valuable cash that's better spent on enjoying your visit. Please note that for safety reasons, we keep limited cash float levels on buses and request that customers avoid paying with $20 notes or higher.
Pick up a Metrocard to use while you're in Christchurch. There are plenty more Metrocard benefits. Metrocards cost $5. You can pick one up at the Metroinfo Counter at the Bus Interchange when you arrive in the city, or at these handy locations across Greater Christchurch. Metrocards are not available at the airport or from the driver.
See the full fare structure here, including cost comparisons between cash and Metrocard.
Bus stop location
Buses depart frequently from the northern end of the International Arrivals hall, next to the Novotel Hotel. The short walk is undercover almost all the way from both the domestic and international baggage claim areas. There is signage inside and outside the terminal to guide you in the right direction.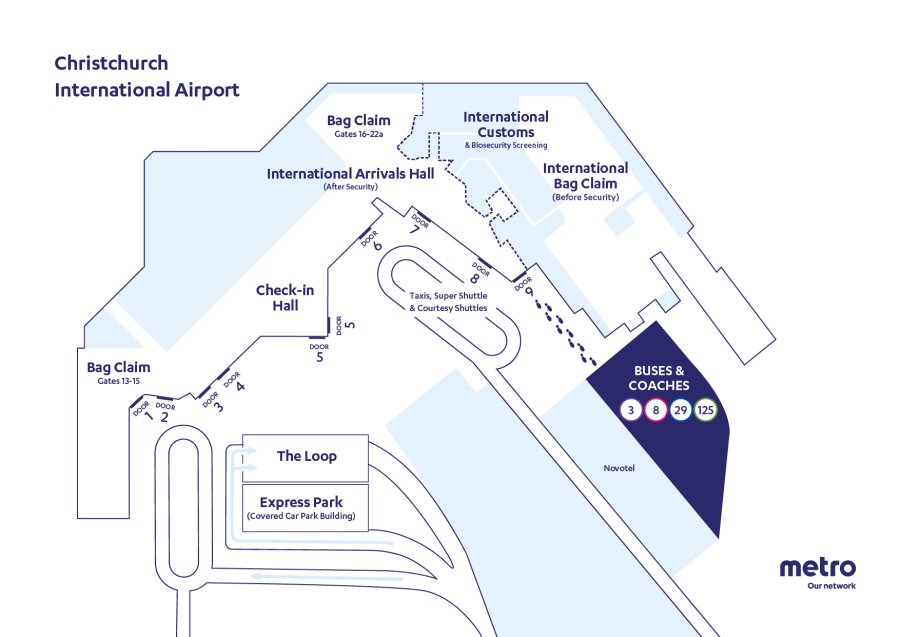 Getting started: Download our 'Getting Started with Metro' guide and make the most of getting out and about in Christchurch.