Travelling within Selwyn and to the city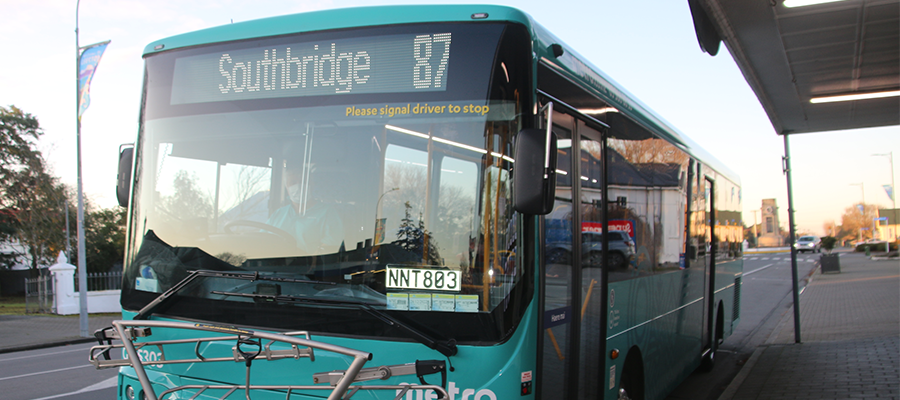 Take the hassle out of trying to find a car park and take the easy way in
Living outside the city limits doesn't mean you need to rely on a car all the time. We have public transport options designed to work for you. Whether you're commuting to work, planning a shopping trip, or visiting friends, Metro will get you there.
Services pick up from as far out as Burnham, Southbridge and Springston, through Rolleston, Lincoln and Prebbleton, and from Darfield through West Melton and Yaldhurst.
During peak times, get there even quicker on one of our express trips, direct to/from Rolleston and Lincoln/Prebbleton.
Direct buses to the city
Metro's direct bus services to central Christchurch are designed to get you from Selwyn to the city as quickly as possible in the mornings and back home in the afternoons.
They pick up at several points in Selwyn, and then choose the fastest route to the city depending on traffic conditions.
Save on petrol and parking, enjoy that valuable 'me time', and help reduce traffic emissions by giving these direct services a go. 
Adult zone 2 fares are just $3.85 with a Metrocard. Check out the fare zone boundaries and what fare you will pay depending on where you're travelling. Free transfers within two hours make it easy to connect to the city network to get wherever you need to go.
Close to home and further afield 
Getting around the district is easier than ever with services running between some Selwyn townships and to Christchurch:
5 Rolleston / New Brighton
The Rolleston / New Brighton service runs frequently throughout the day, usually at 10–15 minute intervals. In Rolleston, the service connects with the 820 to Lincoln / Burnham. Some express trips run on this service. The morning express trips run at peak times and do not pick up passengers after Denton Park in Hornby. Late afternoon express trips do not drop off passengers before The Hub Hornby. Learn more about the 5 Rolleston / New Brighton service.
80 Lincoln / Parklands   
This popular service joins Lincoln and its university with surrounding townships before travelling into the central city and Ara Institute via Westfield Riccarton and the hospital. The key stops along this route include:
Lincoln University
Prebbleton
Westfield Riccarton
Christchurch Hospital
Bus Interchange
Ara Institute 
Learn more about 80 Lincoln / Parklands service.
87 Southbridge / Lincoln
This service connects Lincoln with two buses, route 80 and route 81, to the city.  It also connects with the 820 to Rolleston, although with a 30-minute wait. As a trial, it is funded until June 2022 at this stage.
This service operates Monday – Friday including school holidays. It does not operate on weekends or public holidays. There are two fare zones relevant to this service so please check the fare zone guide.
The key stops along this route include:
Southbridge
Leeston
Doyleston
Irwell
Springston
Lincoln University
Learn more about 87 Southbridge / Lincoln service.
820 Burnham/Lincoln via Rolleston
This hourly service connects Lincoln township with Burnham and Rolleston.
The key stops along this route include:
Lincoln University
Faringdon
Rolleston
Burnham
Learn more about 820 Burnham/Lincoln via Rolleston service.
Park & Ride 
Walk, cycle or drive to one of the Rolleston Park & Ride facilities where you can leave your bike or car all day. From these facilities, it's easy to catch the bus or meet up with others to carpool. 
Each Park & Ride facility has lighting, security cameras, and facilities for secure bike storage. And best of all, the parking is free.
There are two Park & Ride designated facilities in Rolleston:
Foster Park
Selwyn District Council, corner Kidman St and Norman Kirk Drive
View maps showing the location of the Rolleston Park & Ride locations.
Ready to ride?
If you're new to bussing in Christchurch, check out our Getting Started with Metro guide. Otherwise head to go.metro.co.nz to plan your trip and see when the next bus is due. Our Metroinfo team are also here to help you organise your travels. Whether you're going down the road, across the district or into the city, give us a call on 03 366 88 55 and we can help you out.