Students at participating tertiary institutions are eligible for a concession when travelling on the Metro network in Greater Christchurch. Pick up your new Tertiary Student Metrocard from your tertiary institute today for savings of at least 50% for university and polytech students compared to the standard adult bus fare!
Under 25 years old? If you already have a Metrocard then you'll likely already be receiving the cheaper $1 bus fares in Greater Christchurch. Find out more.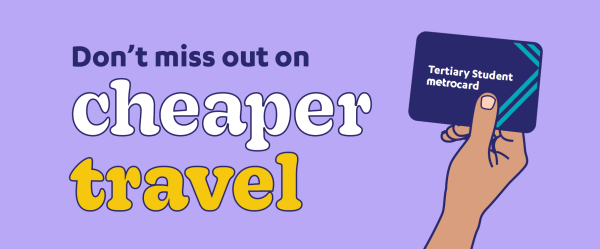 Ride for less
A tertiary bus fare is only $1, which lets you travel on Metro buses within Greater Christchurch. And travel on the Metro Diamond Harbour Ferry for only $2.
To be eligible, you must be enrolled for at least one semester (half a year) at one of the participating tertiary providers listed below. We recommend reviewing the Tertiary Student Metrocard terms and conditions if you plan to purchase a tertiary card.
How to access the new fares
To take advantage of the new fares, you will need to pick up a Tertiary Student Metrocard through your tertiary institution. Details on the process for each tertiary provider are listed on this page. Please note that tertiary fares will not be available if using a standard Metrocard.
As an introductory offer, the Tertiary Student Metrocards are currently free of charge, and we encourage eligible students to pick a card up straight away to make the most of the discount.
Once you have your new card, register it online straight away using the registration code that is included with the card. Registering is a quick process, giving you access to important features like online and auto top up, and also helps us retrieve your balance if you accidentally lose your card at any point.
From there, completing your registration and using your card is the same as a regular Metrocard.
Participating institutions
Students must be currently enrolled in courses that cover at least one semester to be eligible. Make sure you have your Student ID with you when applying for your Tertiary Student Metrocard.
Lincoln University
Lincoln has launched. Collect your new card from Campus Bookshop in Forbes Building, Ground Floor on the Lincoln Uni campus.
Ara, Christchurch
Ara has launched. Collect your new card from Student Finance in the Rakaia Centre on the Madras Street campus in the city. Or at the main reception of the Student Services Building at the Sullivan Ave campus in Woolston.
University of Canterbury
UC has launched. Order your new card via the UC online order form. Once your new card is ready for collection, you'll be notified and will need to visit the UCSA counter on Level 2 in the UCSA Building for pick up.
Whitecliffe, Christchurch
Pick up an application form on campus from reception or the student kitchen area and take the completed form to the Campus Manager to collect your new card.
Aspire2 International, Christchurch
Visit reception on campus to complete an application form and collect your new card.
New Zealand Graduate School of Education
Visit reception on campus to complete an application form and collect your new card.
University of Otago - Christchurch
Visit reception on campus to complete an application form and collect your new card.
Welding Academy
Visit the upstairs office to complete an application form and collect your new card.
The National School of Aesthetics
Visit the student liaison office on campus to complete an application form and collect your new card.
Te Wānanga o Aotearoa – Christchurch campus
Christchurch tauira, if you need a Tertiary Student Metrocard you may collect one from the Tauira Support Advisor team at the Manchester Street Campus. Look for the application form on our tauira noticeboard.
AGI Education – Christchurch campus
Visit the campus director to complete an application form and collect your new card.
Airways – Christchurch campus
New Airways students will have the opportunity to sign-up for a Tertiary Student Metrocard as part of their induction process. Outside of the induction process, students need to email trainingadmin@airways.co.nz and request a tertiary student metrocard. Airways will then arrange meeting with the student and take them through the sign-up process.
Other local institutes
We are currently working with several other tertiary providers to make these fares available to more students. Keep an eye on this page for any related updates.
Frequently asked questions
Jump to your question:
Why do I need to get a new card to access the discount?
Limitations of our ticketing system mean that issuing a new card is currently the best way to work around these restrictions and verify that anyone using tertiary fares is an eligible tertiary student. Our team will continue to work with our ticketing system and its operators to make any improvements where possible.
Can I transfer my balance from my old Metrocard to my Tertiary Student Metrocard?
Yes, if your Metrocard is registered with us, we can transfer any remaining credit from your old card to your new one.
Make sure you have registered your card and then give us a call on 03 366 8855, email metro@ecan.govt.nz or see us at the Bus Interchange in the central city.
Please note that the transfer currently takes 3 to 5 days to process so you will need to top up your card to get started.
Can I get discounted travel just by showing my driver my valid student ID?
No, you can only access the discount through paying with a Tertiary Student Metrocard. You cannot access the concession when you pay with a normal Metrocard or cash.
Will I be expected to present my student ID when boarding to prove that I'm eligible?
We want to keep things simple and save you and others time when boarding, so we will not be requiring you to present your student ID every time you board. When you board the bus or ferry, simply swipe your Tertiary Metrocard like you would normally.

However, we do ask that all students carry their student ID with them at all times as proof of eligibility in the case of staff conducting spot checks.
I am enrolled at a tertiary institute in another region. Can I get this discount?
No, only the local tertiary institutions listed above are eligible.
Is my tertiary provider in the process of signing up to this?
We are working with a number of tertiary providers that are interested in partnering on this initiative. Any other participating institutes will be added to this page once confirmed.
Please note that while Environment Canterbury is funding the discount for the trial period, there are responsibilities that participating tertiaries need to agree to, so it can take time for them to officially become part of this.
How is a Tertiary Student Metrocard different to a normal Metrocard?
While your card will look a little different to other Metrocards, day-to-day you'll use it just like a standard Metrocard. Our Using Your Metrocard page has all the key information for getting around with your new card.
We also recommend reviewing the Tertiary Student Metrocard terms and conditions (PDF, 106KB) once you have signed up for your card.
What happens when I am no longer a student at my tertiary provider?
As part of the participation agreement, your tertiary institute has agreed to provide Environment Canterbury with the enrolment status of students that have been issued a student Metrocard. This will include the information you provided when signing up for your student Metrocard and your enrolment status.
When we identify that a customer is no longer enrolled at the institute, we will notify them that they have 30 days until their student card will be deactivated. In this time, we strongly encourage people to order a new Metrocard via our website.
What happens if I switch from one participating tertiary institution to another?
If you switch your place of study (e.g., transferring from UC to Ara) you are still eligible for the tertiary concession. Please note that to verify eligibility, you will still need to sign up for a new Tertiary Student Metrocard with your new tertiary provider.