You can use your Metrocard on all Metro services including the Diamond Harbour Ferry. We encourage customers to register their card online.
How to use your Metrocard
Using your Metrocard on the bus
Tell the driver the destination that you want to travel to and place your Metrocard on the card reader. It will deduct the fare and your new balance will then be displayed on the screen.
When the balance is below $5, the scanner displays a yellow light reminding you to top-up. You can set your Metrocard to automatically top-up through your online account.
Checking your Metrocard balance
You can check the balance of your Metrocard by:
Topping up your Metrocard
Online
We recommend topping up online, through your online account as it saves you and others time when boarding and means you don't have to carry cash with you. You can also set up automatic top-ups for your Metrocard, when your credit drops under an amount you specify.
Online top-ups are generally available to use on your bus or ferry within one hour, however in some cases there can be delays. We recommend topping up before your balance runs out or the day before your next trip.
Please note that the amount you have just topped-up will continue to be flagged as 'Pending' in your Metrocard account until you next swipe your Metrocard.
In person
You can top up in person by:
Asking the driver to top-up your card using cash only. For cash top ups onboard, drivers can accept top ups amounts of $5 minimum and in multiples of $10
At the Metroinfo Counter at the Bus Interchange using cash or eftpos.
At a Metro agent using cash or eftpos. Find a Metro Agent here.
We recommend checking that the amount loaded on your card is correct, by checking your receipt.
Updating your Metrocard details
Please keep your Metrocard contact information up to date. This will ensure that you are receiving relevant service updates and that you don't miss out on promotions. Log in to your online account to see or change your details.
Taking care of your Metrocard
Like other electronic cards, your Metrocard has a magnetic strip that runs around the edges of the card. If the magnetic strip is damaged the card reader won't be able to scan it.
To extend the life of your card we recommend you avoid:
Bending or flexing your card.
Punching holes in your card.
Snapping your card.
Flicking your card against objects.
Dropping your card on a surface or the ground.
Cutting your card.
Peeling plastic from your card.
Using your Metrocard with Locky Docks
Locky Docks are free, secure locking stations for bikes, e-bikes and scooters, and can be accessed with your Metrocard.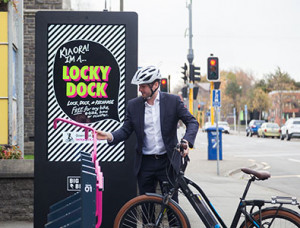 There are Locky Docks around the CBD with CCTV cameras and built-in alarms. See location of Locky Docks here (hint:click "Cycle stands" and then they'll show as pink pins on the map).
How to use Locky Docks
Tap your Metrocard to lock and unlock. Any bike, e-bike or scooter will fit. There is no fee to use a Locky Dock so nothing will be charged to your Metrocard. None of your personal information registered to your Metrocard will be shared when you use a Locky Dock.
Head to the Locky Docks website to learn more. If you need any assistance, call the Locky Dock hotline on 0800 115 599.