Electric revolution for Christchurch's Orbiter fleet
The popular Orbiter bus route has, from this week, seven new electric vehicles joining its ranks, as Christchurch's fleet of electric and low emission vehicles grows.
By the end of this year, 28% of Metro's fleet will be electric or low emission thanks to a further 18 new electric buses, growing to 40% in the next two years.
These new electric and low emission vehicles will be tested and monitored on the Orbiter route to ensure their suitability for the greater Christchurch network, before purchasing decisions are made for further new vehicles beyond 2022.
Environment Canterbury Councillor Peter Scott said that he hopes the electric Orbiter will help people connect their transport choices with their carbon footprint.
"Electric vehicles help us stay ahead, but taking the bus is already one of the best choices you can make," he said.
Matt O'Malley has managed the Orbiter service for its entire lifetime, as operations manager for Go Bus and, before that, Leopard. He said that the Orbiter has been a long-time favourite route in Christchurch, due to its high frequency and connected suburban route.
"The Orbiter comes along in each direction at a high-frequency. It was a natural choice for our deployment of this next group of electric vehicles, the high profile of the route ensuring that many people will have a chance to ride on the electric bus," he said.
Every ride makes a difference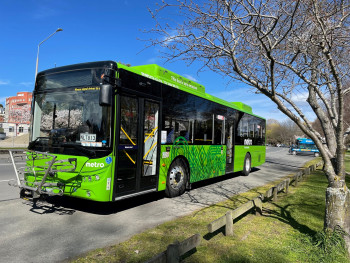 Cr Scott said that awareness of the new electric vehicles will further improve their impact.
"Simply taking the bus makes a difference, whether it is electric or not. Kiwis drive 49 billion kilometres a year, and more than a billion of these are short car trips under two kilometres.
"Research shows that often, people don't connect their car use with their carbon footprint, but we all now know the importance of taking steps to reduce our environmental impact.
"Making the choice to jump on a bus is easier when it is frequent, which is one of the aspects we're focusing on improving across greater Christchurch. When that bus is electric, naturally the benefits are even greater, but driving less is one of the best ways you can reduce your carbon footprint," Cr Scott said.
Another 35 new low emission Euro 6 buses are also now in service, with four more to join the fleet by November. All these vehicles, and several of the electric buses, have been built locally at Global Bus Ventures in Rolleston.
Fleet modelling estimates a reduction in CO2 emissions of 14% and PM10 emissions of 25% in the first year. 2022 will see another 28 vehicles replaced with electric or low emission buses, bringing the total vehicle replacement to 40% of the existing urban fleet.
Learn more about what Metro is doing to deliver sustainable public transport solutions for Canterbury.