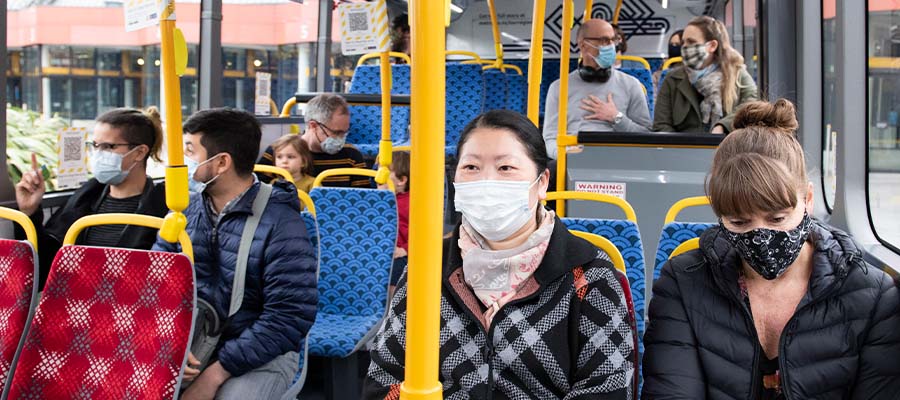 COVID-19 continues to affect our everyday life, including how we travel. Our team here at Metro are committed to making sure travelling on the Metro network is a safe, friendly and positive experience.
Travelling on the Metro network? It's good to know we're looking out for you.
A fresh bus, every day
We are committed to keeping your travel safe and healthy.
Our enhanced cleaning regime inside Metro buses remains in place throughout the pandemic. This includes sanitising of all touchpoints, such as the backs of seats, poles and handles.
Cover for each other
Face coverings are mandatory for public transport services everywhere.
You don't have to wear a face covering if you are under 12 or have personal health reasons not to. Students on all school buses are also exempt from wearing a face covering.
Face covering rules apply to your driver too. Please be respectful of the fact that your driver may have a personal health or safety reason for not wearing a face covering.
Metro and bus operator staff do not have the legal authority to enforce the use of face coverings. Please take personal responsibility by wearing a face covering if you can, and be respectful of your driver and fellow passengers. We're all in this together!
Contactless payments
Although you can pay by cash, we really love it if you can use your Metrocard. Metrocards enable a much quicker and contactless transaction with our drivers, keeping you and them safe.
Register your card online at metrocard.metroinfo.co.nz for contactless top-ups as well.
Keeping a record
You are now expected to sign in for contact tracing purposes in public places. Your bus has QR codes for you to sign in with your NZ COVID tracer app, or you can call Metroinfo to record your travel.
We're prepared
We know we may need to respond to changes in alert levels in the future, and we have plans in place for this. Please check our COVID-19 news page for the latest information when alert levels change. It's a good idea to make sure you have your contact details up to date in your Metro online account.
Keep up to date on all the latest government information for travelling on public transport at the Unite Against COVID-19 website.
We look forward to welcoming you onboard!