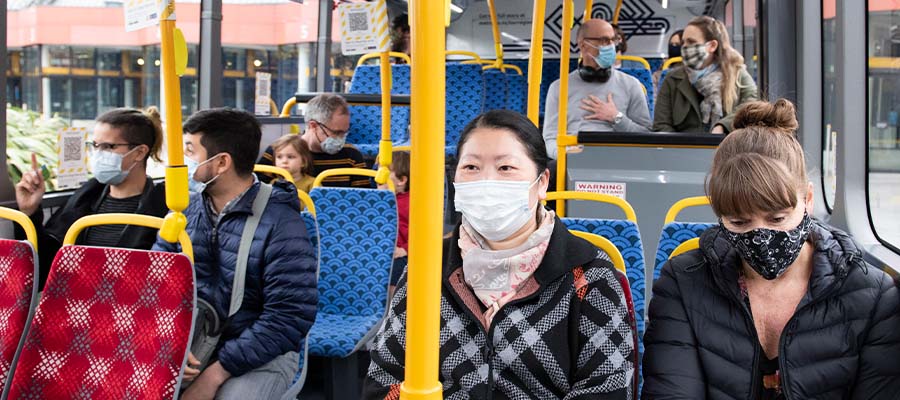 COVID-19 continues to affect our everyday life, including how we travel. Our team here at Metro are committed to making sure travelling on the Metro network is a safe, friendly and positive experience.
Travelling on the Metro network? It's good to know we're looking out for you.
Cover for each other
Face coverings are mandatory for public transport services everywhere.
Those aged 12 or older are required to wear a face mask onboard all Metro services (including school services), and at indoor facilities (like the Interchange), unless you have an exemption.
New Ministry of Health guidelines also mean a face mask needs to be an actual mask attached to the head by loops around the ears or head. Scarves, bandannas, or t-shirts should not be used.
Face covering rules apply to your driver too. Please be respectful of the fact that your driver may have a personal health or safety reason for not wearing a face covering.
Metro and bus operator staff do not have the legal authority to enforce the use of face coverings. Please take personal responsibility by wearing a face covering if you can, and be respectful of your driver and fellow passengers. We're all in this together!
Contactless payments
Although you can pay by cash, we really love it if you can use your Metrocard. Metrocards enable a much quicker and contactless transaction with our drivers, keeping you and them safe.
Register your card online at metrocard.metroinfo.co.nz for contactless top-ups as well.
We're prepared
We know we may need to respond to changes in the future, and we have plans in place for this. Please check our COVID-19 news page for the latest information. It's a good idea to make sure you have your contact details up to date in your Metro online account.
Keep up to date on all the latest government information for travelling on public transport at the Unite Against COVID-19 website.
We look forward to welcoming you onboard!