Airport cash fares reduced with the opening of international borders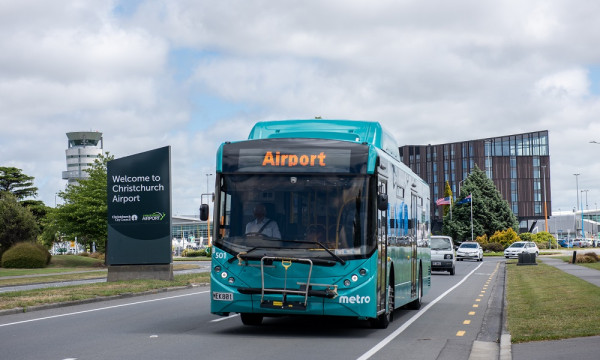 Coinciding with opening of international borders on 1 May 2022, we'll be reducing the cost of cash fares when getting a bus to and from the airport. This means that customers who board a Metro bus at the Christchurch International Airport will pay the same cash fare as for any Metro bus trip within Christchurch.
Previously, cash fares from the airport included an additional fee which will no longer apply from the start of May. A Zone 1 adult cash fare that cost $8.50, will now cost the standard price of $4.20. Even better, as public transport fares are currently half-price, a Zone 1 adult cash fare costs just $2.10 until the end of June.
Return tickets will no longer be available as they are no longer needed and transfers will be exactly the same as with other trips with Metro.
Fares remain the same for customers using their MetroCard as card fares were not subject to the additional fee. MetroCard fares are 25% cheaper than cash fares and we encourage customers to pick up a MetroCard to get the best bang for their buck.
Public Transport manager Stewart Gibbon says it's the perfect time for the change with the recent reopening of international borders.
"We expect the number of visitors using Metro services from the airport will continue to grow over the coming months, and for more locals to be travelling to and from the airport," Gibbon said. "This also aligns with responding to customer feedback to make public transport access to the airport easier and more affordable."
"Combined with the current half-price fare discount from central government, now is a great chance for visitors to take advantage of low-cost public transport to get around town and see what Christchurch and the Greater Christchurch area have to offer. With more and more electric and low emission vehicles in the fleet it's becoming an even more sustainable way to travel too."
There are three routes that service the airport. Route 3 will take you through the central city and out to the popular Sumner Beach. Route 29 is a direct route to the central city Bus Interchange where visitors can find many of Christchurch's main attractions. Route 125 services more residential areas, but also travels to The Hub in Hornby for great shopping.
Next time you're flying in Christchurch, forget about parking fees, sit back, and let us drive you to and from the airport!