Bus Interchange to reopen at 4:30pm Monday 23rd
Update @ 3:40pm Monday 23rd
We are delighted to report that our technology supplier has resolved the issues and the Bus Interchange will reopen as of 4:30pm this afternoon.
Until 4:30pm, customers are advised to continue using the Manchester St Super Stop as per the info below.
From 4:30pm onwards, operations and services can return to use the Interchange as normal. For the remainder of today (Monday 23rd) Routes 3, 60 and 80 will continue to service the Manchester St Super Stops as well as the Bus Interchange. From tomorrow morning (Tuesday) those three routes can return fully to their normal route. The Metroinfo counter will also be open tomorrow morning at the usual time.
We thank customers for their patience during this outage and are working closely with our technology supplier to mitigate risk of this kind of outage occurring in the future.
- - - - - -
Update @ 2:40pm Monday 23 January 2023
The CBD Bus Interchange is temporarily closed due to an unexpected technology outage. Our technology supplier is continuing to work to resolve the issue as quickly as possible.
The Manchester Street Super Stops will function as the temporary Interchange location. Customers using Route 17, please use the Hereford Street stops. See below for a walking map to travel between the Interchange and these stops.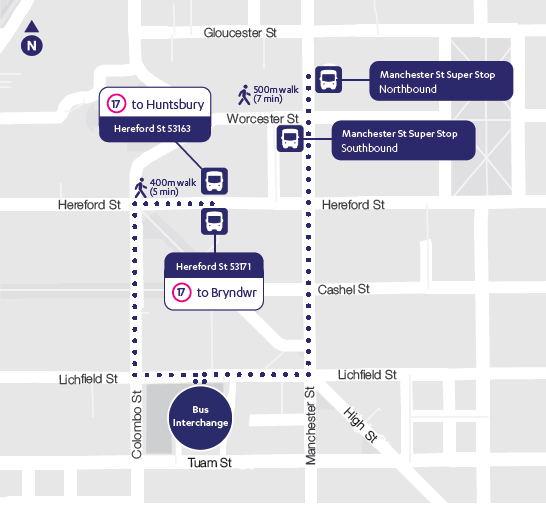 We are in close communication with our technology supplier and will provide updates at 9pm tonight (Monday) and 6am tomorrow (Tuesday), here on the website and via the Metro Facebook page. In the meantime, if planning travel, we encourage customers to allow an extra 10 minutes for their journeys.
We apologise for this inconvenience and will reopen the Bus Interchange as soon as our supplier has resolved these issues.

Metroinfo counter temporary closed
Until the Interchange can be reopened, the Metroinfo counter will be temporarily closed. Customers who need to top up or order new cards can do so via these alternative channels:
Online at metro.co.nz
With one of the many Metrocard agents around Greater Christchurch
In person at our temporary pop-up counter at 200 Tuam St (Environment Canterbury building) from 9am-4:45pm. Enter the main doors and turn left. Payments by credit card or EFTPOS only. Day passes can be purchased here.
Tops ups can also continue to be made onboard buses using cash.
For other enquiries, please phone the Metroinfo customer service team on 03 366 8855.