We're committed to having a fully zero-emission fleet by 2035 at the latest. Read on to find out answers to some of the more in-depth questions you might have about Metro's electric buses.
However, we think of sustainability as meaning more than providing zero-emission vehicles. We need to make sure that taking public transport is an option for more people. This means providing a system that is more convenient, reliable, easier to use, and better for the environment.
Read more about sustainability in public transport.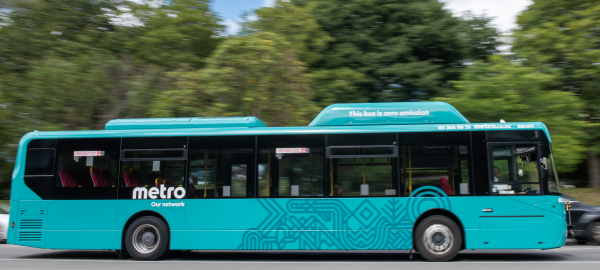 What are some of the benefits of Metro's electric buses?
Customers have loved telling us how much they enjoy riding on the new electric buses, finding them a smoother, quieter, more comfortable ride.
People in wheelchairs or with mobility restrictions find them easy to board too, and we've also heard from many cyclists and pedestrians, who enjoy the cleaner air when passing by one of these buses!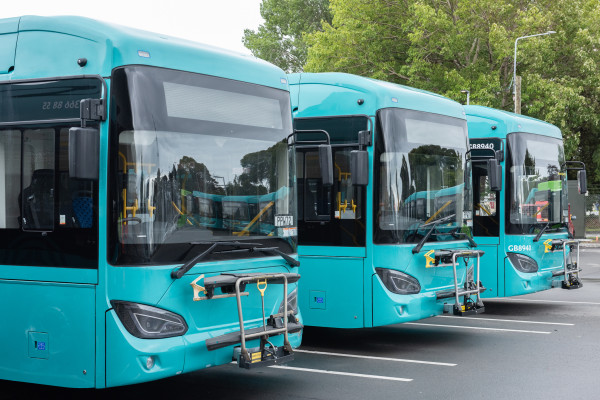 How do these buses make an environmental difference?
In 2023, our electric fleet will reduce Metro's carbon dioxide equivalent emissions (CO₂-e) by an estimated 18 per cent, equivalent to nearly 2,400 tonnes of carbon dioxide saved annually, compared to a fully diesel fleet.
Likewise, the emissions reduction from these electric buses includes 16,000 kilograms of Nitrogen Oxide Emissions (NOₓ) and 140 kilograms of PM₁₀ (Particle Matter), which is also a win for air quality.
These figures are sourced from data provided by Emission: Impossible Ltd, a New Zealand consultancy specialising in air quality and greenhouse gas emissions, and sustainable transport management.
When will all the new buses be electric?
We're phasing in the new buses, keeping costs down and making sure we keep up to date with newer technologies.
During this time, we're testing and monitoring the new vehicles to ensure they are suitable for our network, before purchasing decisions are made for further new vehicles.
The government has been supporting the move to decarbonisation with additional funding to enable only zero-emission public transport buses to be purchased from 2025.
We're fully committed to meeting this goal and having a fully zero-emissions fleet by 2035 at the latest.
New electric vehicles will continue to be added to the fleet to replace vehicles at the end of their service.
How long do they take to charge, and how long does the charge last?
Our buses typically travel 300 kilometres a day on Metro's network, so it's clear that they are more than capable of completing a full day's work.
The batteries are charged overnight at the depot. For each hour spent charging, a bus can travel 130–150kms. The buses are charged for two hours each night.
The buses have an approximate, fully charged range of 400 kms. This is affected by whether they are on flat or hilly routes, how they are driven, and even road and weather conditions.
In December 2022, the new electric vehicles were driven 1000kms from Auckland to Christchurch. The journey took two days, charging in the middle of the day at Taupo then overnight at Wellington.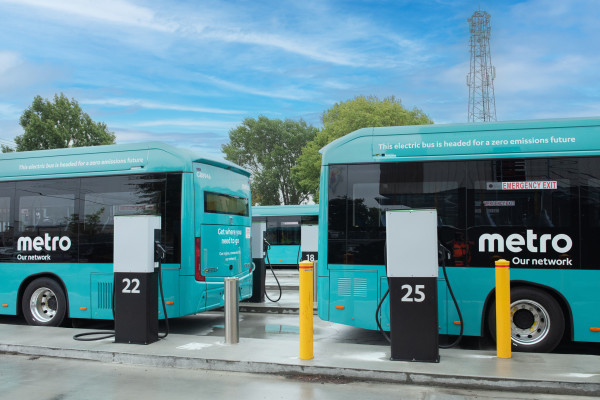 What about the sustainability of the batteries?
Environmental sustainability, safety and reliability are top of mind when choosing an electric bus. Lithium iron phosphate (LFP) battery chemistry is preferred as it offers a long service life, requires little to no maintenance, is extremely safe, light in weight and has improved efficiency. It does not contain highly expensive metals such as cobalt and nickel. 
What is the expected battery lifetime?
The battery systems that we currently use could achieve a life cycle of around 20 years, depending on their use.  Once a battery pack is replaced and reaches its useful life in the transport sector, it will potentially have another 10 years' secondary life as a stationary battery, such as for power storage for bus operator depots. This can take advantage of storing energy at times of cheaper power pricing, or to add resilience to our charging infrastructure in the event of a power outage.  
What is in the batteries?
LFP batteries contain critical raw materials, which are difficult to mine in most countries but are an abundant earth resource (namely lithium, phosphorus and graphite).  As part of the environmental strategy for ensuring that EV technology is both sustainable and green, it is necessary that raw materials are recycled from end-of-life batteries, as batteries do contain polluting substances that could be removed during recycling.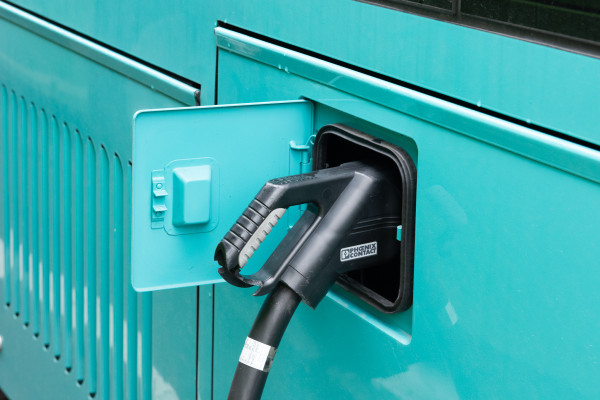 Who built the buses, and where did they come from?
These Geely C12e buses have been built by Geely, a subsidiary of Yutong. They were shipped from China to Auckland, and driven from Auckland to Christchurch.
Before the arrival of these 16 buses, there were already 25 electric buses in the Go Bus Christchurch fleet, comprising of locally built GBV and imported Yutong battery electric buses. Ritchies also operates three electric buses.
These buses have been monitored during their service on roads across greater Christchurch, with no issues reported.
The new Geely C12e buses are on a lighter chassis, making them even more suitable for Christchurch's hilly suburbs and lighter bridges.
What routes will the new electric buses run on?
These new electric buses will mainly be used on routes 17, 100 and 120, joining our 28 other electric vehicles running on many Metro routes.
Is Environment Canterbury considering hydrogen technology?
Not yet. Auckland Transport is currently trialling one hydrogen vehicle in Auckland, but the investment in hydrogen storage and infrastructure means that we don't expect to trial hydrogen technology in Canterbury in the near future.
We continue to look to new technologies as we invest in our new fleet. This is one of the benefits of staging our vehicle purchases rather than buying an entirely new fleet at once.
What else is Environment Canterbury doing around sustainable transport?
Visit our Sustainability page to read more about what Environment Canterbury, as your regional council, is doing to bring the change needed for a sustainable transport future for Canterbury.